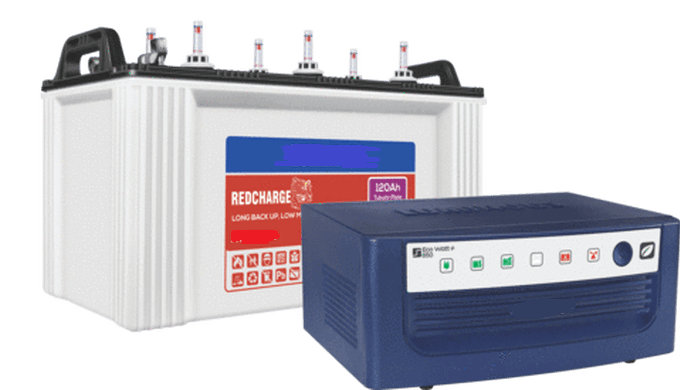 Is the home inverter running cost the same as the grid power tariff rate? 
Most people believe so. They have a notion that the cost of getting power from it is the same as the rate at which they consume electricity.
They believe that home inverters are economical to run;
They believe that home inverters are a good source of getting power during power shutdowns.
If we are comparing to the DG (Diesel Generator), they are definitely cheaper to run, but, if compared to a PV solar, the cost is much higher than the tariff rate of the power grid.
Each unit of power supplied by the home inverter actually costs roughly 1.6 times the grid rate. 
This means that if the home inverter is giving the output of 1000 W and the grid tariff is Rs. 6.5/Unit, then the cost of getting electricity produced will be Rs. 10.4 (Rs. 6.5 x 1.6) per hour. 
Since this is a recurring cost, over a period of time substantial cash outflow happens on running a home inverter.
The larger the size of the home inverter, the more will be the monthly expenditure incurred.
The loss happens in the home inverter due to various losses associated with it.  
To understand the magnitude of the loss in running the home inverter, I have summarized, in the table below the expenses over a period of 25 years, (the life of PV solar systems).
Please note that I have ignored the cost of the batteries as they will be required in both the PV solar system and the home inverter system.  Only the cost of electricity has been considered for simplicity, Other maintenance costs have been ignored.
The assumptions done for calculations are given at the beginning of the table.
table
Home Inverter Running Cost
Assumptions
Power Shutdown/Day
3
Hrs
Electricity Tariff Rate
6.5
Rs./ Unit
Elect charges escalation/yr
3%
P.a.
Inverter usage Rate approx (assuming 60% loss)
10.4
Rs./ Unit
Inverter output
1000
W
Years
Inverter Run Hrs.
Annual Increase Factor
Electricity Consumed/Annum(Rs.)
1
1,095
1.00
-11388
2
1,095
1.03
-11730
3
1,095
1.06
-12082
4
1,095
1.09
-12444
5
1,095
1.13
-12817
6
1,095
1.16
-13202
7
1,095
1.19
-13598
8
1,095
1.23
-14006
9
1,095
1.27
-14426
10
1,095
1.30
-14859
11
1,095
1.34
-15305
12
1,095
1.38
-15764
13
1,095
1.43
-16237
14
1,095
1.47
-16724
15
1,095
1.51
-17225
16
1,095
1.56
-17742
17
1,095
1.60
-18274
18
1,095
1.65
-18823
19
1,095
1.70
-19387
20
1,095
1.75
-19969
21
1,095
1.81
-20568
22
1,095
1.86
-21185
23
1,095
1.92
-21821
24
1,095
1.97
-22475
25
1,095
2.03
-23149
Total Inverter hrs.
27,375
Total
-415,200
*Negative figs. means cash outflow